So as not to miss any African news, Subscribe to our newsletter The "World of Africa" from this link. Every Saturday at 6am, find a week of news and discussions covered by the editorial team at "World of Africa".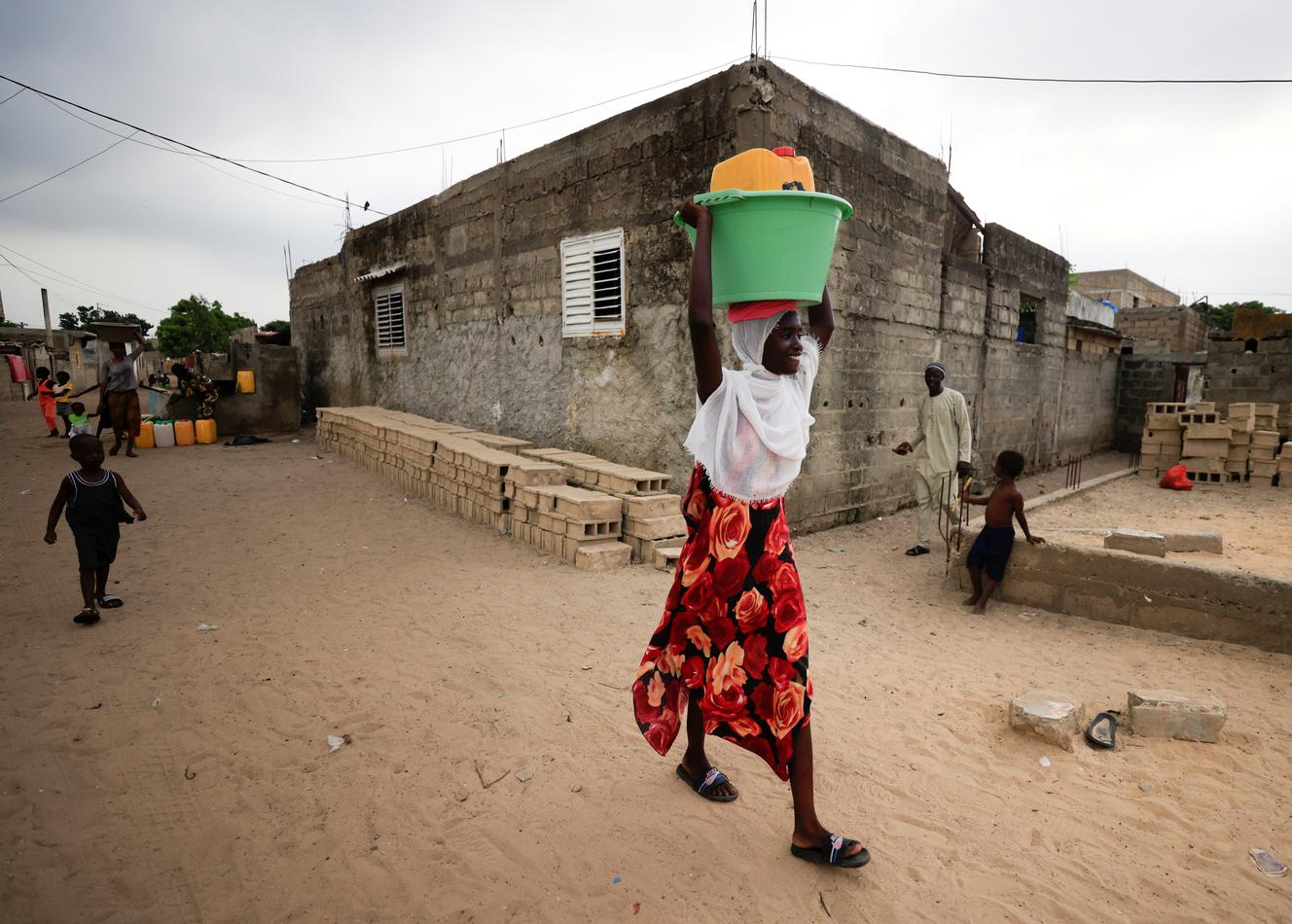 27-year-old Diatou Fay, who is six months pregnant, came alone for a monthly consultation at the health center in Yompel, a remote suburb of Dakar. A few weeks earlier, her husband had chased the young woman out of her home, who suspected her of adultery and did not want to get to know the child or contribute to the costs of the pregnancy. "I had to sleep outside near the gas station", She says, she still features this episode. There, spotted by Matty Sall, a "bajenu gox" ("neighborhood godmother," in Wolfe) who quickly took her to the health center so she could see a gynecologist. She was even absorbed by motherhood while representatives of the community came to an agreement with her family, allowing her to go and live with her aunt.
We have covered all medical costs. We keep 3% of our revenue for emergencies », explains Malamine Diop, a social worker at this institution that opened in 2018 that puts the elimination of gender-based violence at the center of its interests. in Senegal, 27% of women between the ages of 15 and 49 have experienced physical violence, according to the National Agency for Statistics and Demography (ANSD, 2019). In more than half of the cases the husband or partner is the owner of these acts.
In the maternity ward of Yumpule Health Centre, Where young mothers with their young children hanging from their backs crowd, a room is dedicated to listening to women victims of violence. Work that health workers are now doing alongside community actors such as "bajenu gox", imams or youth groups. They live with the population they trust, and therefore they can identify situations that we often get inaccessible.explains Malamine Diop. If they already knew about physical violence, we had to make them aware of recognizing psychological, moral, economic or marital violence. »
Lawyers Support
In Yeumbeul, a poor suburb where many residents live in illegal conditions, the most common abuse is the so-called economic violence. "If a husband does not feed his wife and does not take care of her health or her daily expenses, I negotiate with him first to avoid going to court."Maimouna Diallo explains, "bajenu gox" Since 2009.
In a country with a population of 95% of Muslims, the challenge is also to involve imams in outreach work. "We remember the duties of each one in marriage: a man may not abuse a woman, he must take care of her and take care of her"details of Haji Sakho, Vice-President of the Association of imams of the municipality of Yumbyol Nord.
In the case of physical violence or rape, most actors in society realize that mediation is not enough. Mattie Sall still features the case of two teenage girls, ages 15 and 16, who were raped by their father a few weeks ago. "We received them in the hearing room, then took them to the police after we met the gynecologist who provided a medical certificate"explains the neighborhood's godmother, who turned to the Association of Senegalese Jurists (AJS) to find a lawyer and help them with their legal proceedings.
"Except for economic violence, we reject any negotiations"
In the small offices of a "law firm" in the neighboring suburb of Beijing, four lawyers are busy formulating complaints, requests, or legal conclusions. "If we have a case of violence that needs medical follow-up, we send it to the health center in Yumbul. On the contrary, they refer us to people who need legal follow-up."One of the eight structures of this type that represent AJS in Senegal, Ndi Bakhoum, Venue Coordinator, explains.
In Beijing, a team of ten lawyers handled nearly 1,600 cases free of charge annually in 2020 and 2021. Among these cases are physical (38%), sexual (26%), psychological (22%) and economic (13%) cases. ). "Other than economic violence, we reject any negotiations and support women in filing a complaint or filing for divorce," Nadi Bakhoum, who sometimes has to explain to community actors the limits of mediation.
hard work
For all the actors involved, this mobilization often resembles hard work. Thus, despite the confidence they have gained in their area, "bajenu gox" They still struggle to get women to speak up, who are not always aware that they are victims of violence or rape, especially in a couple setting. "Women have rights and should not be sexually subjugated. There are limits. When the husband does not accept them, violence begins here"notes Mattie Sall, who knows very well that many cases of abuse don't come from the intimacy of bedrooms.
From her office at the health center, Malamine Diop also sees women coming to denounce rape before disappearing into the wild for fear of getting out. "Violence and rape exist in the chaos in our neighbourhoods, but all too often everyone is silent when the perpetrators must be condemned."As Mamouna Diallo says.
More and more youth associations are also participating. "Girls should understand that they can report their abusers without shame, and married women should be aware of the existence of marital rape."Michael Gomis, 27, one of the leaders of the Yumbiol Teen Club, who does not hesitate to intervene in schools and high schools on these still-banned subjects, insists.
Summary of the series "In Africa, Women Confronting Violence"